2021 Membership, Founders Day and License Plate Application
Use the link below to view the 2018 West Point Society of New Jersey Membership form. This form is multipurpose and allows you to register for 2019 Society Membership, Founders Day and purchase West Point license plates.
Society members can order sets of these West Point license plates for their family vehicle(s) by filling out the response form and sending the $50 fee, along with a copy of the vehicle registration, for each vehicle. The plates can also be customized at a later date for a one-time additional fee of $50. Contact Eric Lowy, '85 at emlowy@comcast.net or by daytime phone at (609) 404-1818. You can also use this form to apply for New Jersey West Point License Plates.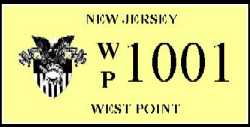 We look forward to you becoming a member of our society! BEAT NAVY!